Sannois Buy 5.7×28 40-Grain v-max Online USa
5.7×28 40-Grain v-max was once seen as the round of choice for Central American drug lords–at least as far as most in the US were concerned, but as time has gone and the general population has become more aware of the round, it has developed a solid following here in America. With that, more and more manufacturers are jumping on the 5.7×28 train and supporting this once-niche round.
History of the 5.7x28mm Round
The FN 5.7x28mm round was originally created as part of an attempt by NATO to replace the 9x19mm round that was (and is) the standard sidearm round for most of the Western military and police forces.
The goal was to create a round with better range, accuracy, and terminal performance than the 9mm.
In 1990, FN completed development on the first 5.7 round, designated the SS90. It used a 23 grain projectile moving at 2800ft/s when fired out of the 10.4" barrel of the FN P90 (developed at the same time).
Out of the P90 the round was capable of penetrating Level IIIA ballistic armor at 200 meters.
NIJ IIIA armor is rated to stop a .357 magnum, so having a lightweight and lightly-recoiling round that could defeat this type of body armor at range was attractive to many potential adopters from various militaries and police agencies.
Further development led to a round with a slightly shorter, but heavier projectile that still reached speeds of 2350ft/s out of the P90. This SS190 would go on to become the standard 5.7×28 round.
The shorter length allowed the round to feed more reliably in the FN 5.7 handgun that was also in development at the time.
The P90 was then modified slightly to feed the SS190 reliably, and the two weapons, the SS190 round, and a few other specialty ammo variants such as the L191 tracer and the SB193 subsonic round were submitted to NATO for testing and evaluation.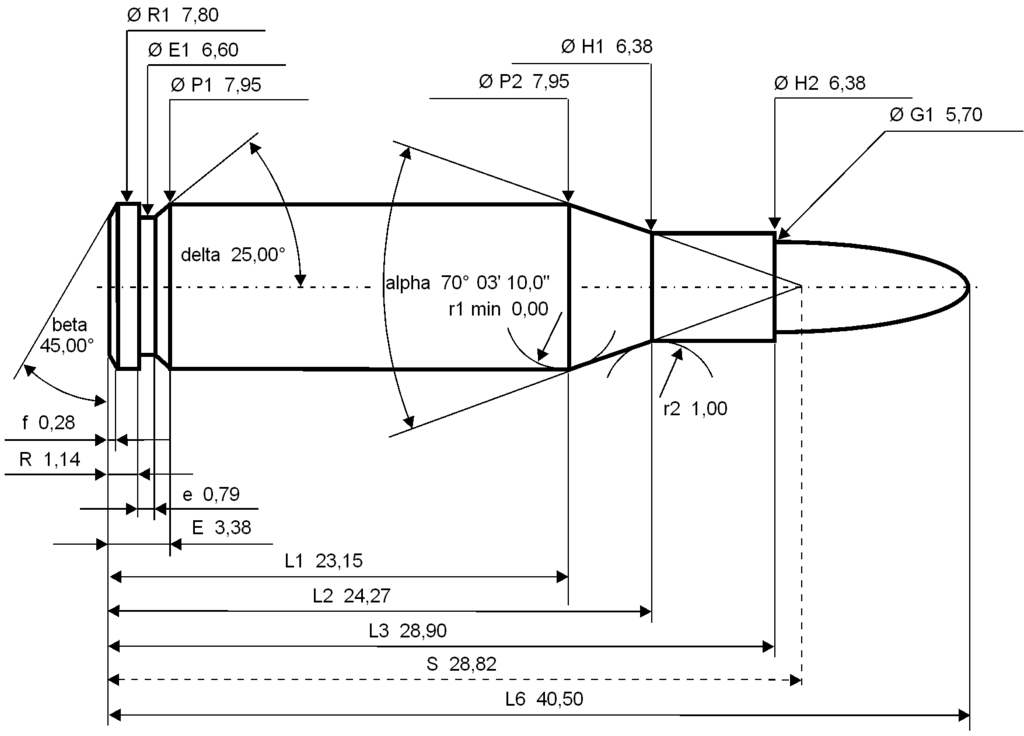 Features and Benefits
FN 5.7 X 28MM 40-GRAIN V-MAX
1,750 fps
50-round box
5.7×28 caliber
Great for target shooting and small game hunting
40 grains
Specifications of 5.7×28 40-Grain v-max
Caliber: 5.7 x 28mm                                                                                                Grain weight: 40                                                                                            Number of rounds: 50
Pistol Ammo Type: Target                                                                                    Grain weight: 40
What's in the Box
FN 5.7 x 28mm 40-Grain V-Max Cartridges
Important Product and Safety Information
You must be 18 or older to purchase Rifle or Shotgun Ammunition and 21 or older to purchase Handgun Ammunition. In ordering this product, you certify that you are of legal age and satisfy your jurisdiction's legal requirements to purchase this product.
For safety reasons, we do not accept returns on ammunition. Always make sure you use the correct ammunition for your specific firearm.
The sale or shipment of this product to residents of certain jurisdictions is prohibited. Check your local laws before ordering this product. Check your local laws for any other regulations.
| | |
| --- | --- |
| Type | Personal defense weapon |
| Place of origin | Belgium |
| In service | 1990–present |
| Used by | 40+ nations; see: |
| Wars | |
| Designer | |
| Designed | |
| Manufacturer | FN Herstal |
| Produced | |
| Variants | See Varieties |
| Case type | Rebated rim, bottleneck |
| Bullet diameter | 5.70 mm (0.224 in) |
| Land diameter | 5.53 mm (0.218 in) |
| Neck diameter | 6.38 mm (0.251 in) |
| Shoulder diameter | 7.95 mm (0.313 in) |
| Base diameter | 7.95 mm (0.313 in) |
| Rim diameter | 7.80 mm (0.307 in) |
| Rim thickness | 1.14 mm (0.045 in) |
| Case length | 28.90 mm (1.138 in) |
| Overall length | 40.50 mm (1.594 in) |
| Case capacity | 0.90 cm3 (13.9 gr H2O) |
| Rifling twist | 228.6 mm ( 1 in 9 inch) |
| Primer type | Boxer Small Rifle |
| Maximum pressure | 345.00 MPa (50,038 psi) |